Nouveau Magazine Netherlands - November edition 2019
text: Monique van de Sande • photo: Roger Neve • makeup: Daphne Weijers • clothing: Patty Summer • concept: Marion Florusse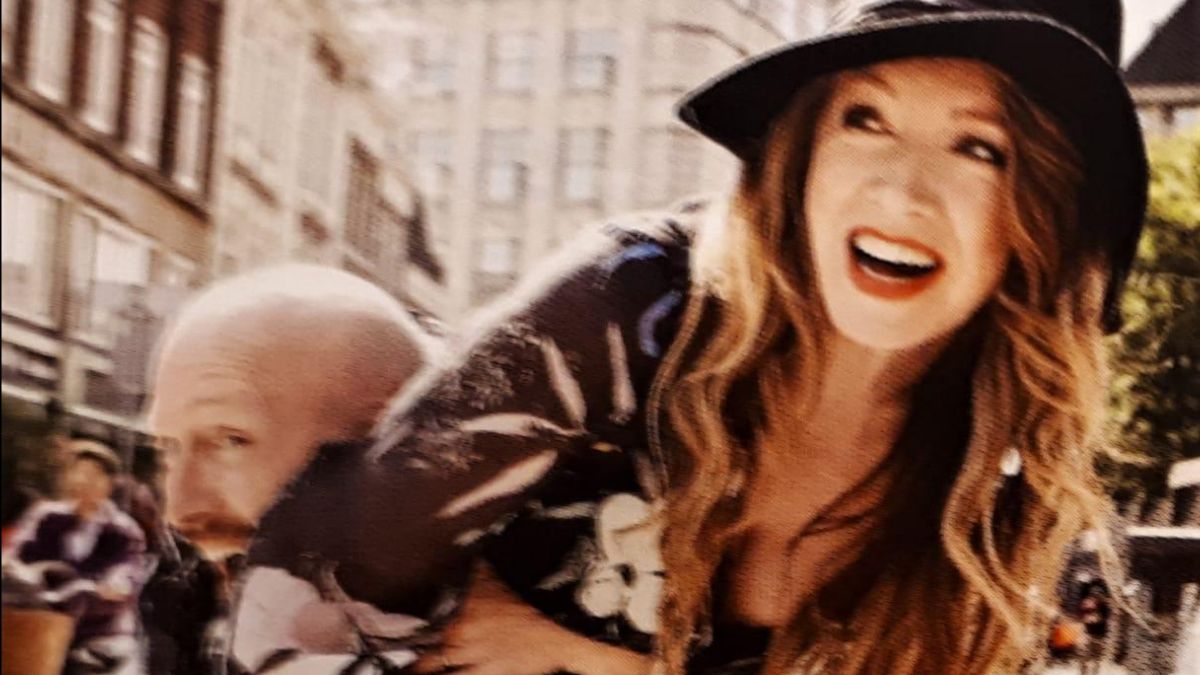 Relationship secrets
Micheline - The love for Willem-Hein
"I met Willem-Hein 15 years ago during the Fringe Festival in Edinburgh. I did a Jacques Brel program there, in a church. The show started with me popping up in the back of the room like a shrieking devil in a bright red dress with a black cape. Willem attended the performance together with Xaviera Hollander, with whom he organized theatre programs and concerts in the Netherlands. Afterwards, they came to me because they wanted to book my show, but Willem stayed in the background.
That was different when I came to the Netherlands for five concerts a few months later. Willem was the one who brought me from Schiphol to The Hague for my first concert. I just came from Australia, had a jet lag and immediately said, "I don't want to chat too much, because my voice is tired." To which he responded: "That's fine because I have a hangover."I immediately found that relaxed, although I didn't think so much about it. I had a broken heart from my previous relationship of four years with a New Yorker, I was actually a bit done with love.
And then after my third concert, Xaviera said, "That Willem is such a nice guy, but he always has those difficult girlfriends. It would be so nice if for once he'd fall in love with a really cool girl. "So apparently he is free, I thought. That still stuck. After my last concert, Willem suggested going dancing in the Melkweg. That wasn't my thing, the music was too loud. The following evening felt much better. We saw each other at Xaviera's house where I was staying and spent hours talking with the two of us. Xaviera does not drink herself, but she did have a bottle of good whiskey at home. That night we kissed for the first time.
Not long after, Willem came to my then home outside of Ghent and we had wonderful, romantic days together. I fell for his charm, his humour and his beautiful, clear, blue eyes. Such a person must be sincere, I thought. He was also so warm, so solid. Yet I repeatedly asked him the first few weeks: "What do you want from me?" Because I just couldn't believe that someone could be that perfect. But it was possible. "
Willem-Hein - the love for Micheline
"Brel sang by a woman, I was a little wary of that. But all the great reviews that Micheline's show had won me over. And as soon as I saw her emerge as a devil, I was sold. There are a lot of artists who can sing nicely but otherwise stand a bit stiff on stage. The opposite was the case with her: she has a powerful stage appearance, and also a beautiful voice.I was single, had had some girlfriends. It wasn't that I immediately thought: I want this woman. Micheline didn't notice me in Edinburgh that night anyway. But her week in the Netherlands was, of course, a great opportunity to get to know each other better. Actually on stage, because I guided Micheline to her concerts and helped with the sound and light during the soundcheck.
Our contact was easy immediately and I secretly enjoyed the way she pronounced my name. I am a bit of a voice fetishist, and I found hers sexy and firm, without a trace of restraint. Micheline is also a woman who stands. She knows what she wants, she speaks up. And I love powerful women. Micheline also looked and looks fantastic. Xaviera certainly helped me by expressing her hope that I would come across a nice, serious girl again. Not that Micheline was over immediately.
In the Melkweg, she went to chat extensively with acquaintances from the Belgian music scene. The kissing on the following evening did not mean that we automatically entered into a relationship. I found that lack of obviousness refreshing. Even after our romantic week in her house near the river in Ghent, she turned the switch with amazing ease and went full for her planned performances. When I'm in love, I have a bit more trouble switching. Yet I already knew that Micheline was the one for me. After two weeks I asked her about her attitude towards children. She found that bold. She said, "I am not against it, but I want to keep singing." We now have two sons of ten and twelve. And of course, Micheline still sings. "
How nice that you find Micheline so outspoken, Willem-Hein. Many Belgians see that as a negative characteristic of the Dutch.
Willem-Hein: "Micheline is outspoken Belgian. She says what she thinks but always remains sweet and reasonable. That makes it great.
"Micheline: "I like directness. Then you know how someone'. "
Willem-Hein: "That was once also a reason for you to move to New York."
Micheline nods: "New Yorkers are very straight forward."
Willem-Hein: "Prefer to call them straightforward. It is good to use Dutch words, and Flemish of course. I often find that very beautiful. "
Micheline: "That Flemish people pronounce bikini differently, you mean? And certainly, instead of for sure. "
Willem-Hein: I also think 'diddy' is beautiful, and malcontent for dissatisfied. But when we lived in Amsterdam, you also broke into Dutch. Your family sometimes said: "Allez, you're becoming a "Holland girl"! Micheline: "We have been living in France for six years now. My Flemish returns.
"Willem-Hein: "And sometimes I use Flemish expressions, so now we are in balance."Micheline: "The boys think they speak four languages: Dutch, English, French and Flemish."Willem-Hein: "They are very proud of that."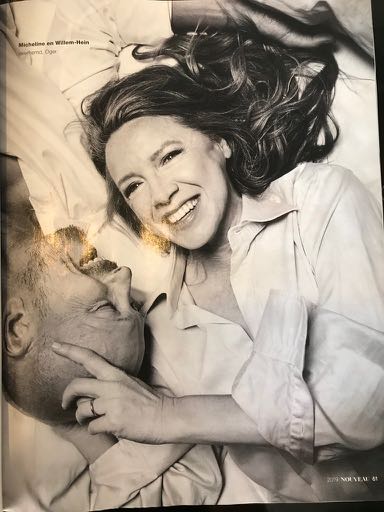 Why did you move to France?
Willem-Hein: "Micheline regularly had complaints about the weather in Amsterdam. If she brought the boys to school, she would come back soaking wet too often. "Micheline: "Or numb. I was not particularly happy in the winter. "Willem-Hein: "Nice weather, that was the main motive.
"Micheline: "We were lucky that we could rent the house of producer and director Nico Knapper in Vence, in the south of France for a while. We ended up staying in Vence, and now we partly rent out our own house. It is a small paradise with an enormous garden. The boys have space there. "
Willem-Hein: "Only now and then I feel malcontent. In the theatre season, you travel to the Netherlands or Belgium almost every weekend, but I'm more stuck with my web design company. Sometimes I am in France for months on end, at my computer. I hardly even see my best friends. "Micheline, cheerfully: "So you go to the Netherlands a bit more often now. That works out well. Although I think we are doing well together in France. "
Willem-Hein: "In the first instance, nobody is waiting for you there, but we have now built up a good circle of friends."Micheline: "We both practice yoga, I ride a horse and you go climbing regularly. We know people from that. But also through the children's school. "Willem-Hein: "And via the JOP; the circle of young Dutch entrepreneurs, of which I have recently become chairman. "
Do you have enough time for each other?
Micheline: "We make time consciously. Sometimes it doesn't work out, but usually, we have a day of pampering every month. The intention is to take turns in surprising each other. Like: "Put on your hiking boots!" And then don't go for a walk, haha. "Willem-Hein: "Good food, watch a beautiful show, or go to the seaside, all of that is possible."Micheline: "We recently started something new that we read in a magazine. The bottom line is that you do something small during the day of which you think the other will be surprised. In the evening you ask: "And what was it?" Willem-Hein: "For example, taking over a chore or being extra attentive. We do not do it by appointment, but regularly. The result is that you pay more attention to each other and are challenged yourself. Very funny.'
That sounds a little therapeutic. Micheline: "Who knows, it's possible one needs therapy. "Willem-Hein: "A relationship is never complete. You have to keep working on it. "Micheline: "It is true that I have learned lessons from my previous relationship. It went wrong because I didn't dare to be honest enough. If there was something small, I thought of what my mother always said, "Ah, you have to add a little water to the wine." So if now there is something o my mind, even if it is small, I speak up. You always respond so disarmingly. Understanding, solution-oriented. You are more closed yourself.
"Willem-Hein: "I speak more than before."Micheline: "More and more. But I have to pull it out, or get the worms out of your nose, as we say in Belgium. "Willem-Hein, hesitantly: "In the first instance, you often also respond more negatively than I do."Micheline: "I am indeed less easily convinced of something new. Sometimes you also buy things of which I think: What ?! And afterwards I am so pleased with it. The bread machine for example. "Willem-Hein: "Ultimately you are the one who bakes the bread. Basically you are a very traditional girl. I also like that: a diva on stage and two feet on the ground at home. "

Are there more points where you differ?
Micheline: "Willem dresses the house much more than I do, and buys plants for the garden. Delicious, all those colours. And what I greatly appreciate: he has much more patience. "
Willem-Hein: "With children, you know that you often have to count to ten. But control is saying it all. I think it is good for children to see your true emotions when they push too hard. Although you are only really moody when you are hungry. As soon as I've served you something tasty, it's over. "
Micheline: "I used to be angry if you drove too fast."
Willem-Hein, smiling: "On those escargot roads here. We have come up with a nice solution for that: if I get a fine, you get lingerie for the same amount. It's a shame that the Waze app now warns me about cameras. "Naughty look:" It's time for a Ferrari moment again! "
Micheline: "Hahaha!"
What have you learned from each other?
Micheline: "Have a little more patience. And continue. Even when I start running alone, I hear Willem's voice: "Allez Mich, just a little sprint, you can do it!"
Willem-Hein: "In private, I can be a dreamer. Setting up a vacation, for example, does not happen. Micheline taught me to hit the nail on the head again. "
Can you compare each other with a place, a song and a dish?
Micheline about Willem-Hein
Place: "The sea, because it is just as beautiful blue as Willem's eyes. I'm still drowning in it. "
Song: "The Chain by Fleetwood Mac, because it radiates power. The necklace of our love is, fortunately, stronger than the link in the song. "
Dish: "Rendang, a spicy Indian dish with beef. Willem is a Taurus and sometimes a bit stubborn. If he wants something, then he perseveres. "
Willem-Hein about Micheline
Place: "L'Olympia, the famous theatre in Paris, where Micheline will probably perform again. She's already singing about it. "
Song: "Dreams, also from Fleetwood Mac. Because Micheline has already made many dreams come true and it is now a common thread in both our lives. "
Dish: "Thai salad, the first dish I made for her. Surprising, outspoken and spicy-sweet with a tiny touch of sour. "
Micheline Van Hautem (51), born in Ghent, sang at the beginning of her career in various pop and rock groups. Later she found her own style in jazz songs, English "standards" and French chanson. Her program around Jacques Brel was her breakthrough. More information at www.michelinemusic.com.
Text: Monique van de Sande